Wang Jian Xuan: The term 'Public servants' does not exist in Taiwan
The people have always criticized the inefficiency of public servants. Even President Guan of the Examination Yuan has expressed in a recent exclusive broadcast interview that, "The current implementation of performance appraisal is very poor, preventing talents from reaching their highest potential. Thus, law amendments are imperative. For the past thirty years, our country's civil service system remains behind other developed countries, solid as an iron plate. If we do not promote the amendments for performance appraisal, we are not fulfilling our duties!"
On December 10 th , President Wang Jian Xuan of the Control Yuan attended the 'Roundtable Discussions General Review of Taiwan 's Compliance with the ICCPR and ICESCR' organized jointly by 10 organizations, including the Chinese Association for Human Rights. During which, President Wang criticized many unjust incidents that have taken place in Taiwan . Majority of human rights violations are cause by governments' administration. Many governments hold the attitude of 'I'm the official', 'I don't care about what you say' or 'I am the government' etc. He pointed out, "What is 'public servant'? 'Public servant' does not exist in Taiwan !".
Wang Jian Xuan expressed that human rights in Taiwan has indeed improved; however it is still far away from our ideals. The government needs to realize that simply signing the two covenants or providing reports will not solve problems. When the discussion of administrative laws and regulations came up, he mentioned that many explanatory notes for statutory from executive branches, methods, rules and precautions often cross the boundaries of the original laws. This is because the law enforcement agencies often rule with the mindset "I'm implementing this law, I'm explaining it, I'm executing it, so what I say goes!" bureaucratically 'ruling' the people. Even though the people have ways to appeal, the process is lengthy and slow; many cases end up with no results. People are suffering and without resolutions, this country will not improve. Without peace and tranquility, there cannot be much progress.
Wang Jian Xuan used a charity for nursing home of the vegetative as an example, 'Disability welfare facilities and staffing standards' stipulate that the ratio of vegetative state patients to bathrooms should be 6 to 1. Thus with every 60 beds, there should be 10 bathrooms. With one less bathroom, 6 people will have to be subtracted. "Where would you send these low income households? Send them to die?" If nursing homes don't reach the basic standards, it will harm the rating, thus affecting people's willingness to donate, and leaving these charities in misery. People want to help the government take care of the disadvantages, but are picked on by the government, making it extremely difficult to help. The officials act like they are the bosses, ordering strange methods. Wang angrily denounced, "Which of the patient in vegetative state can get off the bed to use the restroom? I'm afraid only the Taiwanese officials have this magical power, should we list it in the Guinness World Records?"
What is even more puzzling is, after Wang had reported this incident to the Vice President Wu Den-Yih, Vice President Wu responded that, this nursing home has been rated grade A or excellent, 'Thus it shows that they are able to cope'. Wang said this is like reporting to the emperor "There isn't enough food, the people are going to starve to death soon!" and the officials relaying the message saying, "No one has starved to death, obviously the food is sufficient." This is simply deceiving the executives, one lie after another, without any consciousness to reflect and make corrections!
Wang expressed that having served as the Secretary of the Treasury in the past; he must have also set sloppy, and inhumane statutory interpretations. As he is now involved with philanthropic businesses, he is now aware of these pains. Suffering with the others has allowed him to realize what a vulgar person he once was. For this reason, he decided to help write the Beige Book on Taiwan 's Human Rights Development with the Taxpayer's Human Rights Committee of the Chinese Association for Human Rights and National Taiwan University Law Research Center . He wrote the preface titled 'I'm a sinner?' He said, when many of us government officials are setting, interpreting, or executing statutory, we don't understand people's sufferings "Like me, we have set legislations that put people in pain."
How should we improve civil servants inhuman rulings? Wang thinks that the government should first exercise administrative reform. The president should use a firm hand to require each department's to come up with the list of reforms to be done and the scheduling. Vice president Wu should gather people and require each department to amend any unreasonable administrative rulings within a certain period of time. With this there will be less angered civilians. Second, the government needs a full reorganization. Replace every ministers under the president of the executive yuan. Each department should replace unsuitable directors or secretaries. Anyone with performance appraisal grade C will go. "If you don't work, people will call you stupid, or cowardly! So why would you stay?"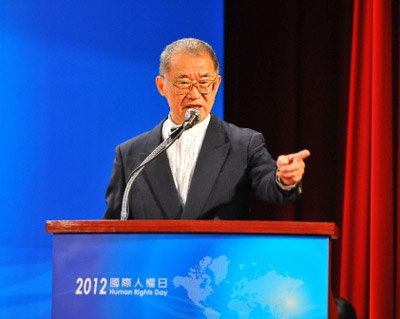 Wang Jian Xuan expressed that none of these are costly. If this is done well, then human rights can truly be protected.